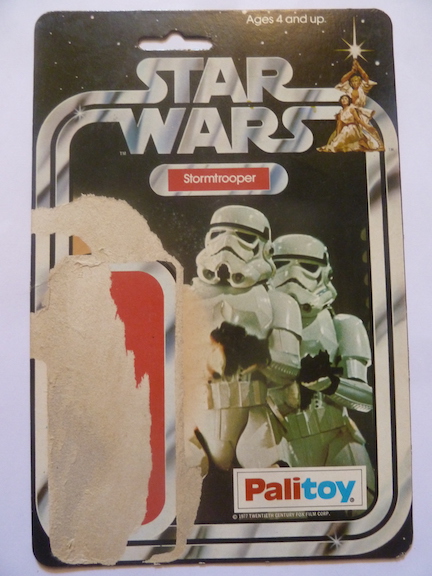 The reverse of the 12B was then changed to clarify that figures fit inside non diecast vehicles giving rise to the 12C variation. There must have been reports of children in the UK trying to stuff Luke and Ben inside the diecast Land Speeder as parents were buying the diecast ships and vehicles in error! This variation was a recent discovery in July 2018 and the text correction has not been found on any Kenner cards as of yet. Maybe American parents weren't so stupid! The 12B variation (and previous 12A variation) says 'scaled to fit inside STAR WARS Space Vehicles) on the third line down on the back of the card. Whereas the 12C variation says 'scaled to fit the large size non die-cast STAR WARS Space Vehicles'. This card variation, and all card variations up until 30B were manufactured in Hong Kong at the Kader Industries factory by the Palitoy (Far East) Company Ltd and then shipped back assembled to the Coalville factory in the UK. You can see it says Made in Hong Kong below the Palitoy logo on the back of the card and Palitoy, Coalville, Leicester, England to the left of the logo.


Again, Han Solo was never released on the card variation like the 12B variation, and has only been seen on the 12A variation. So far, 8 of the remaining figures have been found on this card variation. Princess Leia Organa, Chewbacca and Ben (Obi-Wan) Kenobi are still to have examples found if there are any. Check your cards! Also, as it was phased out during the 12B variation, Jawa (Vinyl Cape) has not been seen on this variation either, it is only seen as Jawa (Cloth Cape).
This is an example of the 12C variation with the Dutch yellow wrap round sticker used to sell it in the Dutch market. This is normally seen on the Palitoy 41 backs rather than the 12 back. See the 41B variation page for more details.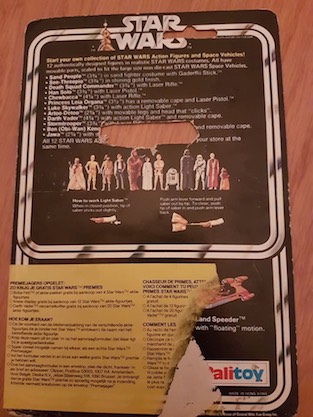 Single stemmed bubble with a footplate were used on this variation like with the 12A and 12B variations.