During the Diamond Jubilee celebrations in 1979 celebrating 60 years of being a company, Palitoy produced a brochure covering the history of the Palitoy company. The guide is shown here in it's entirety and makes fascinating reading. The front cover of the brochure features the iconic Diamond Jubilee logo and a then and now photo of 2 children playing with toys.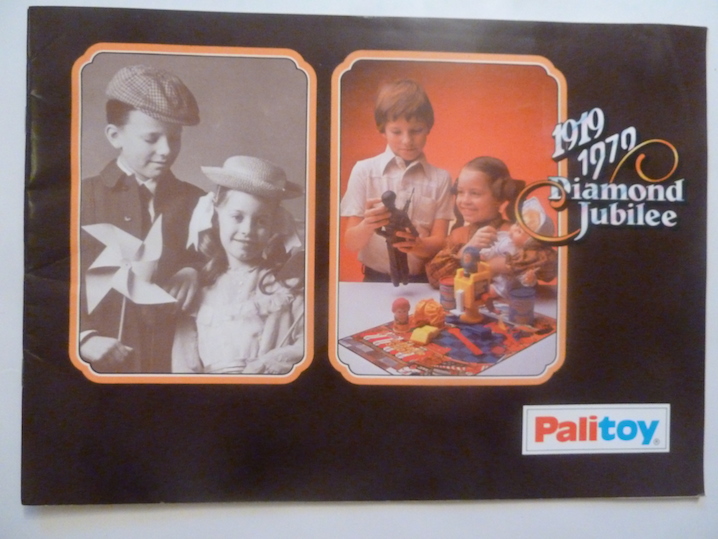 The first page is a preface by L. J. Cooke talks about the current strength of the Company and what lies in the 60 years ahead. It is sad to think that the Palitoy company closed it's factory and ceased to be in 1985, only 6 years after this brochure was produced. The second page talks about the history of toys.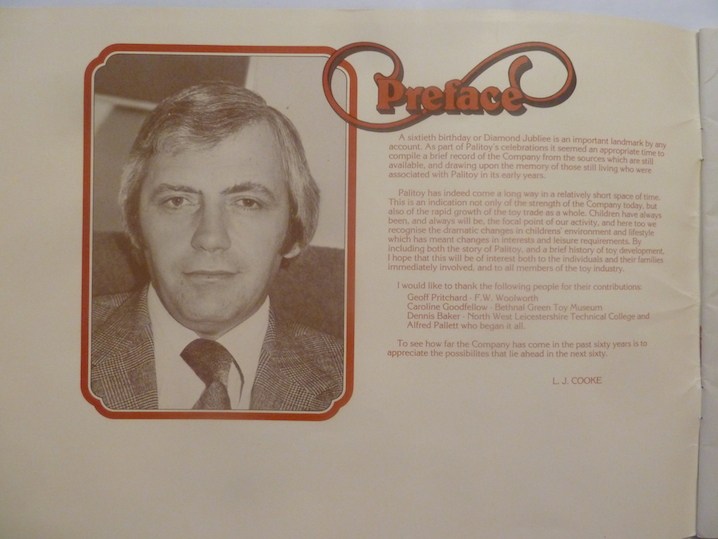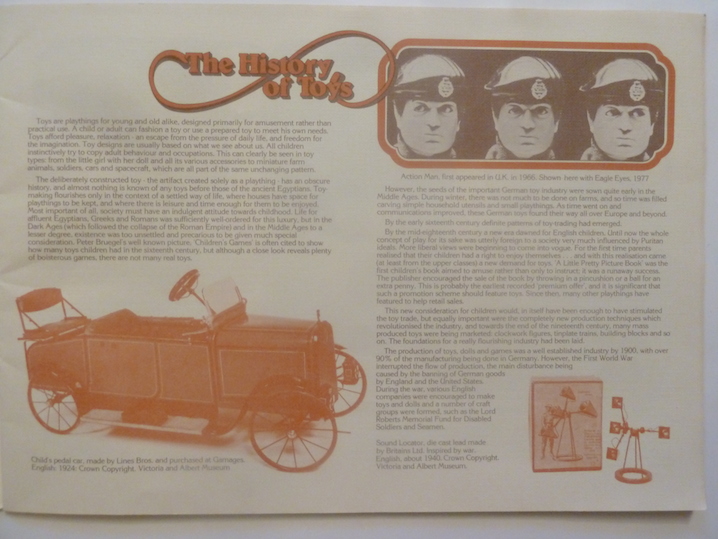 The history of children's toys finishes on the third page. The fourth page has some history on Alfred Edward Pallett who founded the company in 1909 as the Cascellold Company which started out producing celluloid and fancy goods.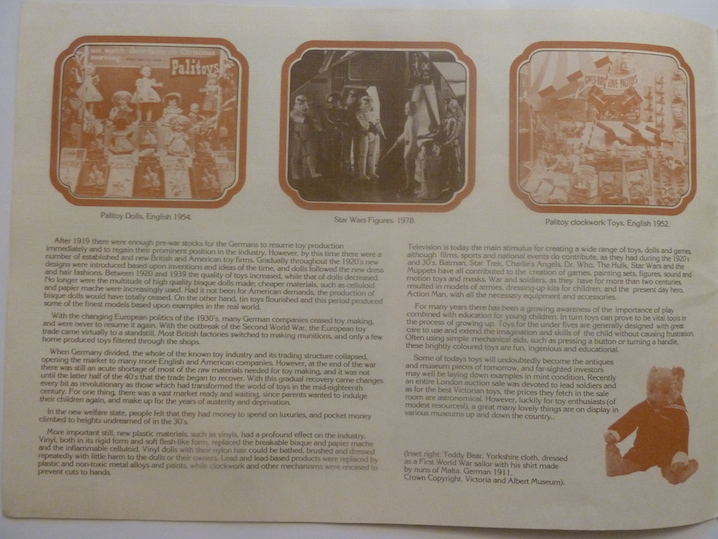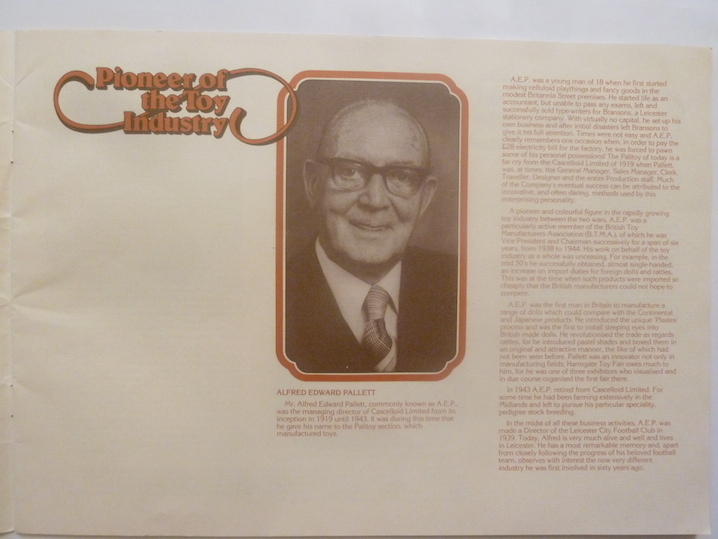 The fifth and sixth pages continue the company history. Cascellold Company was bought by British Xylonite in 1931 and the trademark Palitoy (Pallett Toy) was coined in 1935 for the toy division. Palitoy was sold to US food company General Mills in 1968 and became part of the company's toy division known as CPG (Creative Products Group).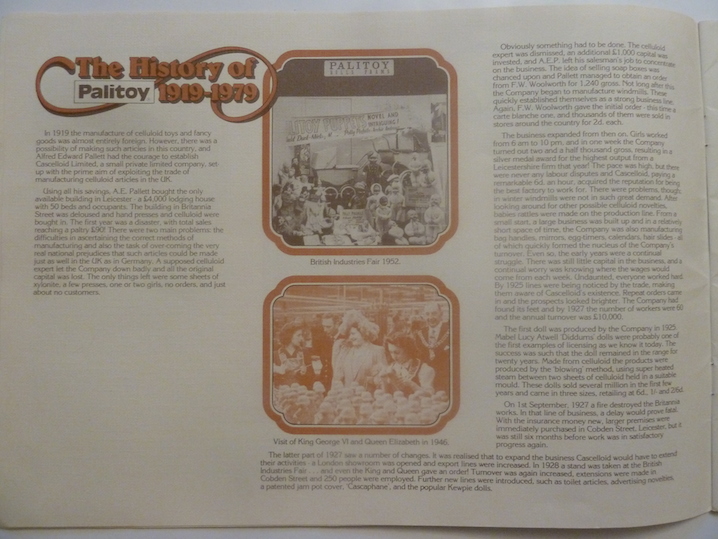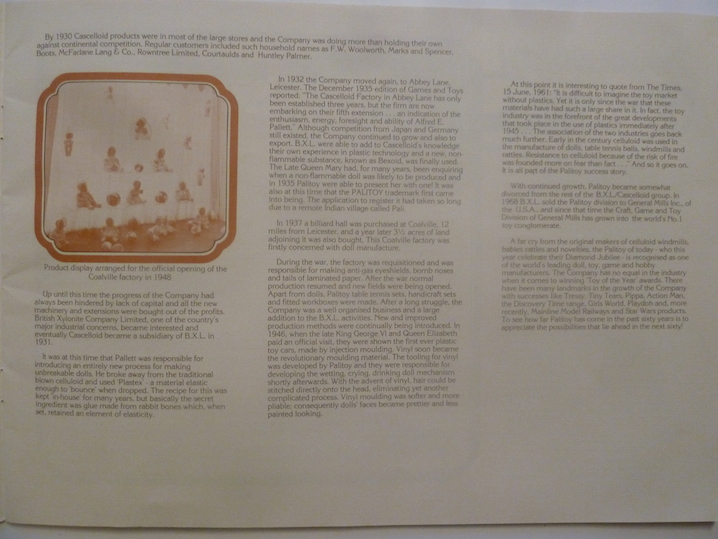 The seventh page talks about Palitoy's long standing customer relationship with Woolworth, a company that itself failed in 2008. The eighth page talk about product development and Action Man is mentioned heavily.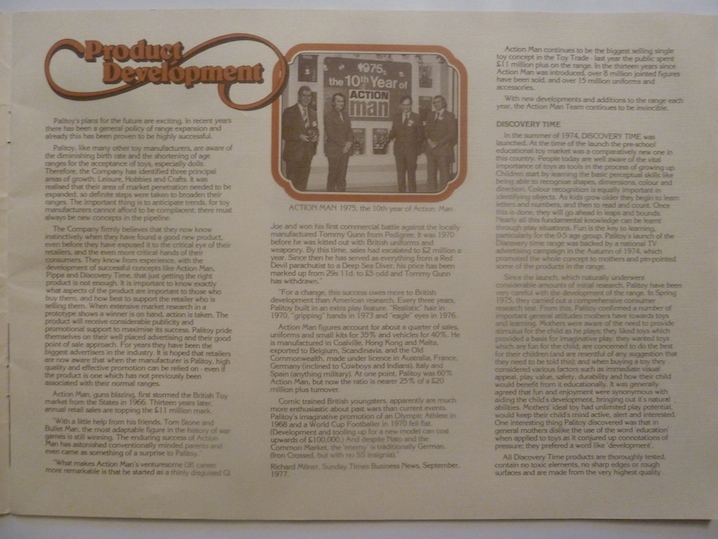 The ninth page continues product development and mentions the new line of toys produced for the Star Wars film. The Coalville factory in Leicestershire features on the tenth page.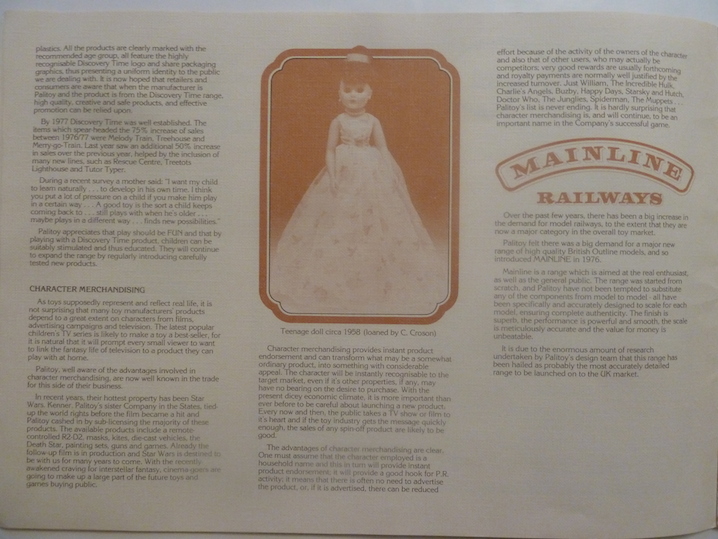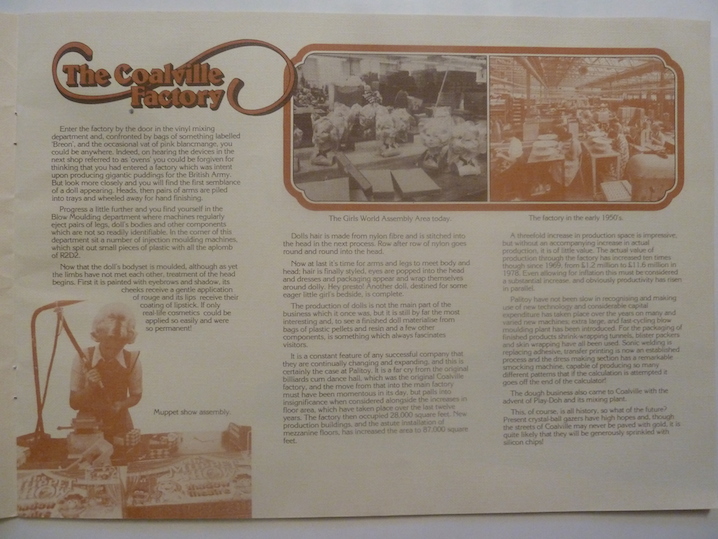 The eleventh page talks about the customer service department in Baker Street and the warehouse in Ashby-De-La-Zouch. The twelfth page talks about Gamesbug, which was cartoon character used by Palitoy in 1979 for a games campaign. It can't have been that successful, I'd never heard of it before reading this brochure!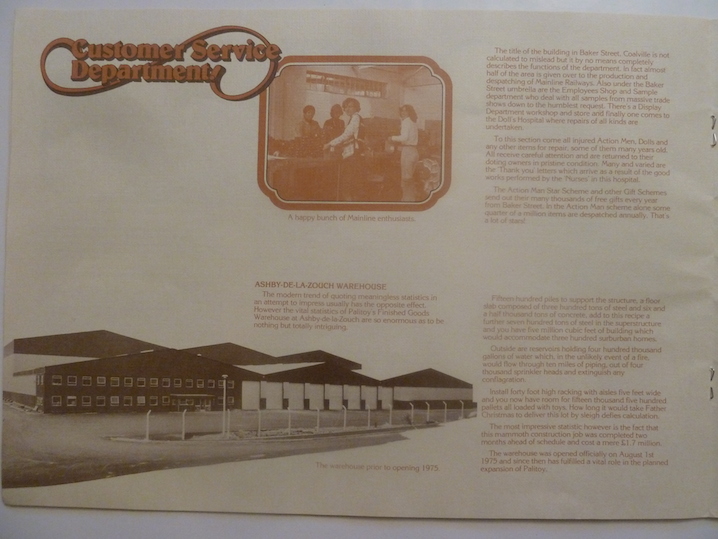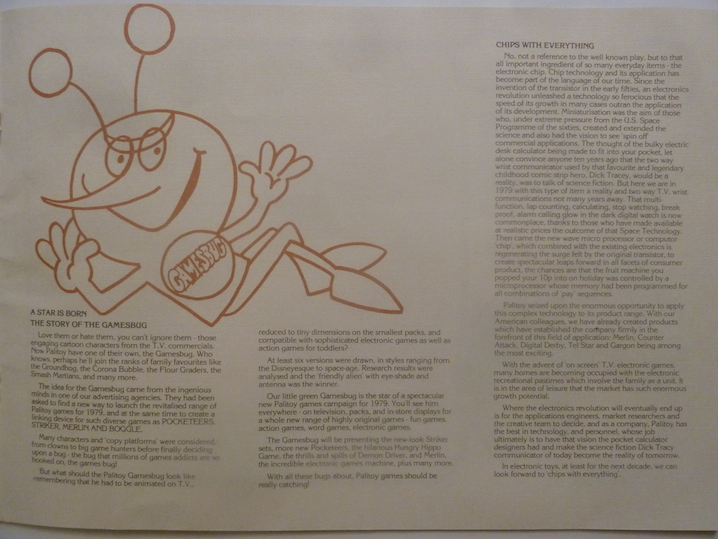 The thirteenth page talk about the export of toys produced by Palitoy. The fourteenth page talks about Palitoy Far East Ltd, which produced a lot of the early Star Wars toys in Hong Kong factories for import into the UK.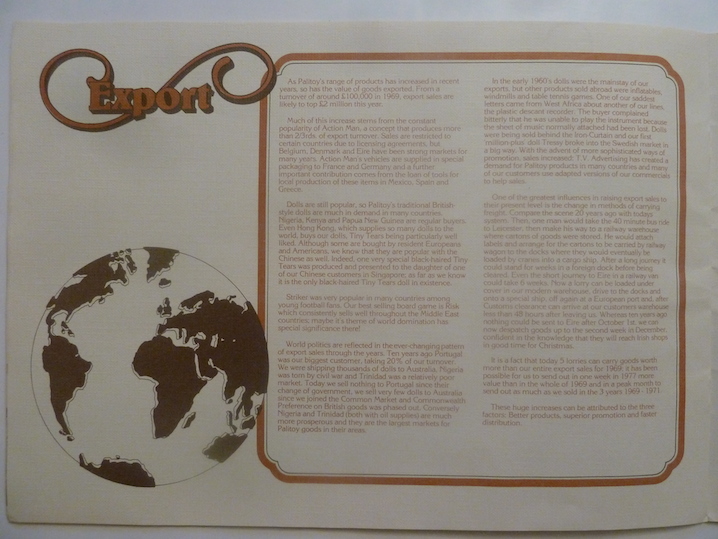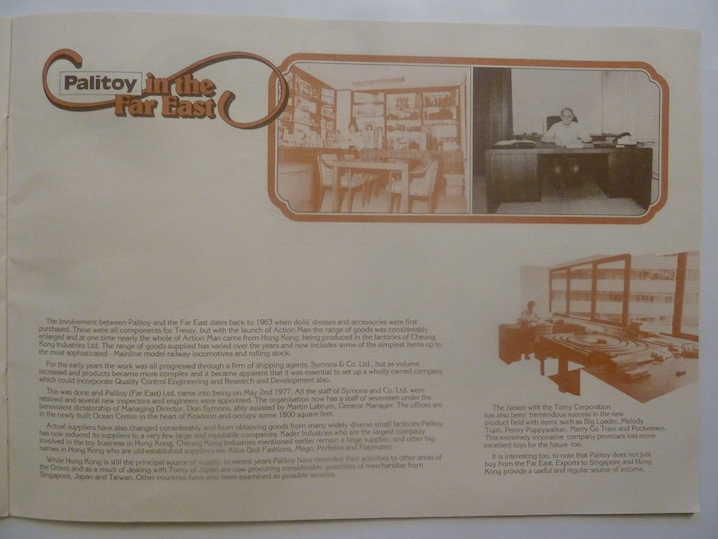 The fifteenth page talks about Denys Fisher, a company which was bought by Palitoy in 1970. The sixteenth page talk about Chad Valley, a toy company that was taken over by Palitoy in 1978.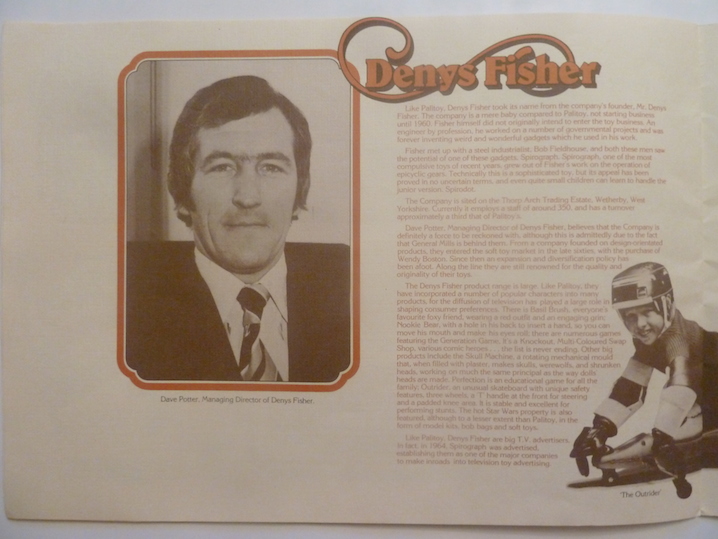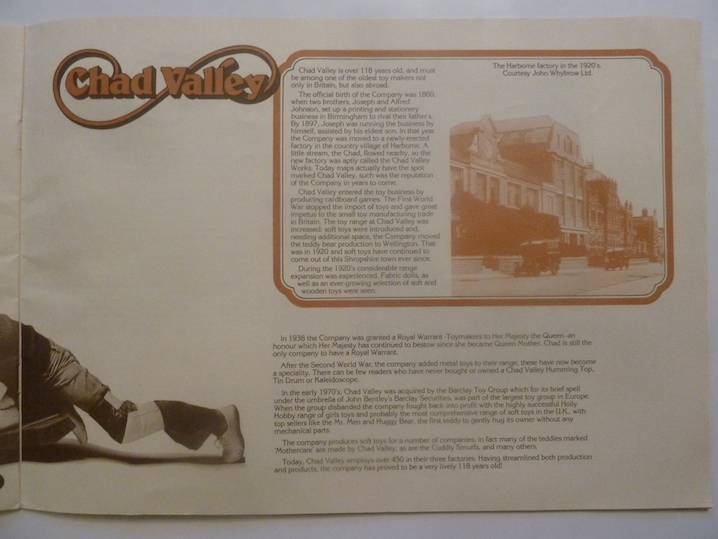 The seventeenth and eighteenth pages talk about the parent company, General Mills and the other companies it runs as in other countries.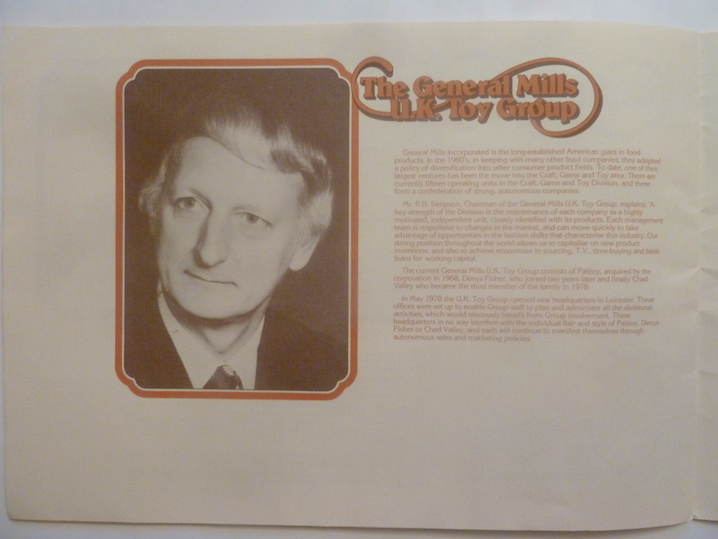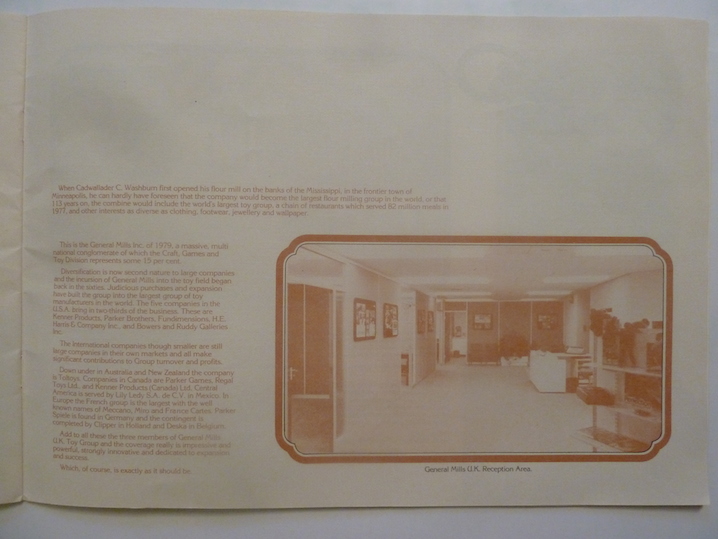 The nineteenth page talks about the Coalville factory in 1919. The twentieth page starts a history timeline for the company with major events highlighted by year,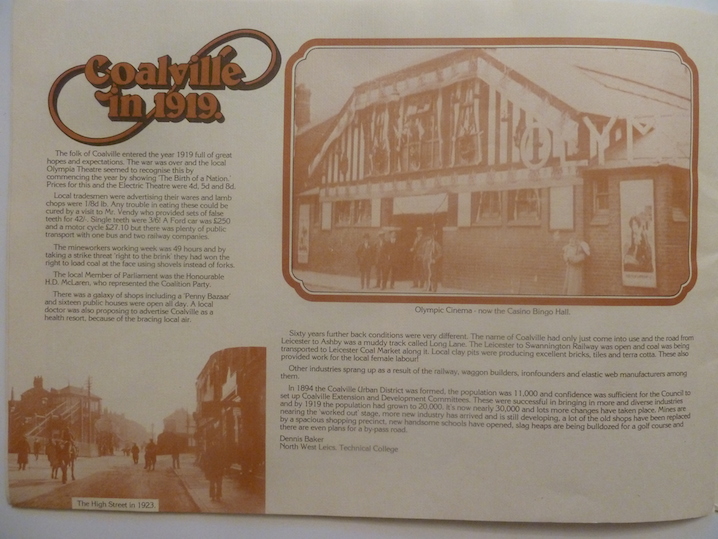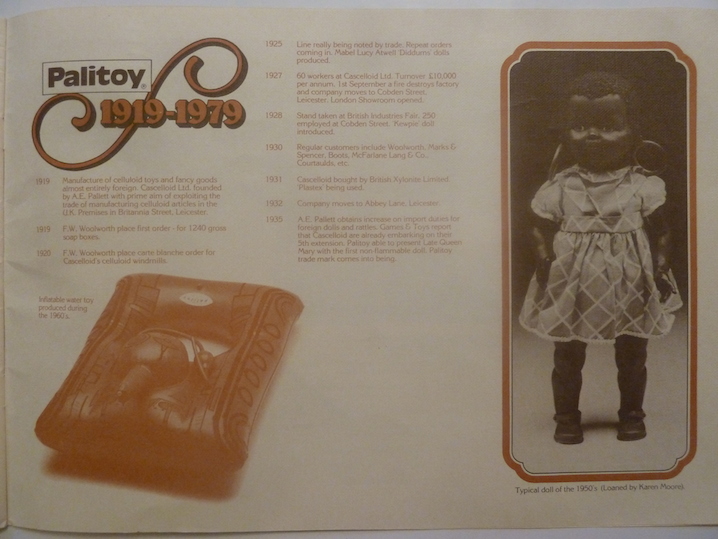 The twenty first page continues the company timeline. The twenty second, and last page, shows a comparison of the Coalville site in 1950 and 1977 showing the size of the expansion of the factory.